International Book Fair 2023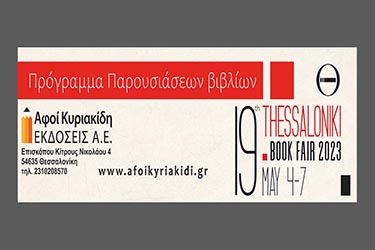 Presentation programme of "Kyriakides Publications S.A." at the International Book Fair 2023.
From 4.5.23 to 7.5.23 at pavilions 13 and 15 of the TIF.

Free entrance for the public.
Friday 5.5.2023, 17:00-18:00
Pavilion 15 , Room Exostis I
Presentation of the book: Ten steps to yourself by Elena Papaioannou
Breathing is the basic mechanism of life and crucial in matters concerning our health and our potential as human-divine entities. Through knowledge we can adopt habits that will lead us to discover the greatness within ourselves.
Speakers
Elena Papaioannou, specialist breathing consultant and author and Thanasis Tsinganas, Journalist
Saturday 6.5.2023, 14:00-15:00
Pavilion 15 , Room Exostis I
Presentation of the book: 9 Women by Vaso Sidis
Each one tells its own unique story. They are all connected by inextricable threads. Women of many complexities, with different entities and philosophies of life, give their own presence. With uninvited memories, bittersweet nostalgia, personal accounts. They know that the true greatness of life is to be able to stand up again, strong and strong, after every fall.
Speakers
Coordination. Mayor of Ampelokipi, doctor, writer, producer of radio and television programmes.
Maria Kaperoni, Clinical Psychologist,
Athanasia Nouni, Artist
Katerina Fotiadou, Actress who will present excerpts from the book
And the author of the book Vaso Sidi, Pediatrician / Oncologist, Health Advisor
Sunday 7.5.2023, 16:00-17:00
Pavilion 13, Alkis Zei Hall
Presentation of the book Nowherelands. Atlas of countries that no longer exist. 1840-1970 by Bjørn Berge
It is an original historical approach, through the collection of stamps, to the historical journey of countries that no longer exist as legal entities over the last two centuries.
With ingenuity and humour, the author recreates in detail the history of the "countries that no longer exist", with emphasis on their social, economic and cultural characteristics. Music, songs and cooking recipes often emerge as the reader's guides on a fascinating journey to magical and exotic places around the world, where myth meets history and the winds of modernity meet traditional cultures.
Speakers
Iakovos Michaelides, Professor of Modern History, Aristotle University of Thessaloniki
Giorgos Antoniou, Assistant Professor. Professor of the Dept. History and Archaeology of the Aristotle University of Thessaloniki